Aorta sales is a specialist sales diagnostics and improvement company based in Berkshire, UK, Milan Italy and associate and network contacts in 23 other countries worldwide. Aorta Sales Limited is a comprehensive sales solutions company providing any or all elements of the sales process to our client companies providing everything needed to optimise successful sales - so essential to every company's performance.
John Bycroft - Managing Director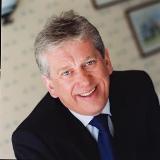 Originally an IT systems professional, rising from Programmer to Systems Manager John Bycroft gained extremely valuable experience as a Buyer of IT systems, before "crossing the line" into sales in 1984.
John joined Olivetti, at that time a major supplier of banking systems where he achieved year on year success selling branch automation hardware and software into several U.K. Building Societies.
Promotion in 1987 took John to Olivetti Corporate headquarters in Italy where for three years he managed a 'Strategic Sales' team, working with different Olivetti subsidiaries throughout the world to lead, develop and win significant deals, including a record breaking $360 million contract with Rabo Bank in Holland.
Returning to the U.K. in 1990, John joined a European start up of an American parent banking systems Software House.
With pan-European responsibility John grew this organisation, via a combination of direct sales and local agents and distributors, from zero to £18 million annual sales; clearing the way for further corporate acquisitions and within seven years a £60 million turnover company.
John co-led a Management Buy-Out, an Initial Public Offering on the Nasdaq stock exchange and a string of achievements including the Queens Award for Export.
From Sales Director to Managing Director John was headhunted to an IT services development and implementation company, where he again grew the organisation both organically and through acquisition, driving sales from £500k to over £5 million within three years.
In partnership with a colleague and frustrated with the standards that he witnessed from the industry in general, John established a specialist Sales and IT recruitment company which has grown substantially and now boasts an enviable and significant client base.
From this start, John has gone on to co-found or jointly develop several other companies all focused on sales personnel, sales process, or sales results improvement and now dedicates himself to driving increased sales performance for client companies.
Established in 2006 as a 'combining entity' Aorta Sales provides an homogeneous framework in which all aspects of sales assistance and support can be provided, delivered through the experiences and pedigree of direct and associated companies.
John is also a Fellow of the Institute for Independent Business and the strategy co-ordinator for the Institute of Directors in Berkshire.
View John Bycroft's profile on LinkedIn:
https://www.linkedin.com/in/johnbycroft/
Ian Marsden - Sales Manager - Business to Business
Ian Marsden's early sales training and experience was gained with H J Heinz, both in territory sales and in Customer Service. A move into New Product Development embraced marketing, product development co-ordination and sales, focusing on Heinz brands and M&S own label products.
Moves to Beecham and Johnson & Johnson took Ian into exports where his French and German languages were put to the test. His role as Export Marketing Manager of medical products at J&J covered Eastern Europe, Middle East and Africa.
Ian moved to Bowater (now Rexam) in 1978 where, after a period as Business Development Manager, he was appointed Sales and Marketing Director of a packaging subsidiary, Welton Packaging, based at Midsomer Norton.
Moving up to Managing Director, Ian led a team which took company sales from £8 million to £40 million through organic growth. Leading positions in retail, petfood and personal hygiene packaging came from focused efforts on selling to and meeting the requirements of such companies as M&S, Tesco, Sainsbury, Mars, Nestle, Procter and Gamble and Smith and Nephew.
Ian now concentrates on helping client companies increase their sales and customer base by bringing a structured approach to the sales process and by providing the appropriate resources to win new business.
Sylvester Smith - Sales Manager - Banking & Finance
Sylvester has over 30 years experience of successfully delivering information technology based solutions to business problems in a wide range of industries.
Following an IBM scholarship at Brunel University, Sylvester joined the company and rapidly progressed through sales and sales management roles before being appointed to an executive role supervising major projects at a European level.
In addition to this extensive experience Sylvester has held senior roles with Tandem Computers, Unisys and Hewlett Packard.
These assignments each called for demonstrable business acumen but also an ability to relate to the complex and sensitive interpersonal relationships that persisted in the delivery of what were often crucial projects.
For a major part of the past fifteen years Sylvester primarily focused on the financial sector in its broadest sense – retail banking, investment banking, asset management, the UK life and pension insurance market as well as having played a significant role in the international re-insurance industry.
However Sylvester also has experience as an executive representative in dealing with the NHS, academia, law enforcement and service industries such as advertising and the media.
Sylvester now works with Aorta Sales advising clients on the potential for the development and improvement of their sales functions.